Every man or gal cave needs a surround sound system
These days, no home theater is complete unless one has some kind of surround sound system. A great surround sound envelops the user in incredibly immersive sound from all angles and can really bring a movie, or a recording of a concert to life.
For the last seven years, I have used an old JVC 5.1 surround sound unit that had a receiver with an upconverting 5 carousel DVD player attached to it and a ton of wires. With most modern consoles offering their own upconverting DVD drives, Blu-Ray drives, and digital streaming boxes, such as the Roku, Google Chromecast, and Amazon Fire, the receiver and cables were overkill for my entertainment center and living room. In an effort to simplify things, I started to look towards soundbars, but I did not want "virtual" surround sound. In my years of experience, of trying and testing out virtual systems, none have ever come close to replicating a true 5.1 system. Sure, having a simple bar with one or two wires sounds great, but if I am stuck with 2.1 sound, I will stick to my TV speakers. To add insult to injury, some of these 2.1 systems are ridiculously expensive.
Enter the Vizio S4251w "wireless" surround sound system. After playing....err testing all of the available surround sound systems at my local Best Buy, and finding them either too complicated, or too limited for their respective prices, I literally stumbled onto this sound bar on my walk towards the exit. It had almost everything that I was looking for in a sound bar. Plus, it was priced at just under $300. Lucky me!
The are few connection ports, but for most these will suffice.
First, the soundbar itself houses the front left, center, and right speakers, as any self respecting soundbar should. The magic however, come from the "wireless" sub-woofer that is easily paired with the main bar
and
powers the two additional satellite speakers that can be placed behind you for TRUE surround sound. The included remote houses the system display so you don't have to stare across the room when changing inputs while the system itself has LED lights to inform you of volume, or system balance. It's also used for Bluetooth pairing, which is a great feature in any price range. You can listen to your smartphone without having to physically dock it. The system also has an optical cable included, as well as speaker mounts. It's a generous offering from a well known company.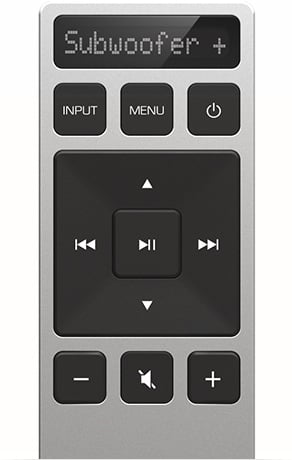 The remote houses the system display
Connecting the system was simple, and altogether I counted 5 cables. The power cables for the soundbar and sub-woofer, the 2 speaker cables that connect to the sub-woofer, and finally, the optical cable that connects to my Samsung HDTV. My former JVC surround sound system had 9 cables and needed the rear speakers to have wire run under my rug in order to hide them. It was unwieldy and annoying.
Tech Specs
Specifications
Sound Bar Size:
42"
Sound Bar Speakers:
Left & Right Channels (each) – 2x 3" mid-range drivers, 1x ¾" tweeters
Center Channel – 2x 2.5" full range drivers
Subwoofer Speakers:
6.0" Subwoofer
Sound Pressure Level:
102dB
Sound Bar Frequency:
90Hz - 20kHz
Subwoofer Frequency:
40Hz-90Hz
Audio Decoding Technology:
Dolby Digital, DTS Digital Surround
Sound Enhancement Technology:
DTS TruVolume, DTS Circle Surround
Wireless Range (Subwoofer):
60' line of sight
Bluetooth:
Yes
Sound Bar Buttons:
Power, Input, Bluetooth, Volume Up, Volume Down
Remote:
Yes – Display Remote
Power Input:
120V 60Hz
Installation:
Table top and wall-mountable
Package Contents:
Sound Bar, Wireless Subwoofer, 2 x Rear Satellite Speakers, RCA Cables for Satellite Speakers, Display Remote, RCA to 3.5mm Audio Cable, Digital Coaxial Cable, Optical Digital Cable, Wall mounts, Quick Start Guide, Sound Bar Power Cable, Wireless Subwoofer Power Cable
Connections (Rear)
Analog Audio Input:
1x Stereo RCA
Analog Audio Input:
1x 3.5mm stereo mini jack
Digital Audio Input:
1x RCA (Coaxial)
Digital Audio Input:
1 x Optical (Toslink)
USB Input:
1x USB (for .WAV audio Playback)
Weight
Sound Bar w/ Feet (rubber pads):
8.9lbs
Subwoofer:
14.7lbs
Dimensions
Sound Bar w/ Feet (rubber pads):
42.32"W x 3.74"H x 3.15"D
Satellite Speakers:
3.18"W x 7.42"H x 2.77"D
Subwoofer:
6.93"W x 12.52"H x 15.86"D
Packaging Dimensions:
44.5"W x 10"H x 18.6"D
Powering on the system, and watching
Pacific Rim
was an experience. The sub-woofer on this system is powerful. It provides room shaking sound in my medium sized living room. Luckily, Vizio provides a "Night" mode setting that tones it down somewhat, so that you don't have the police knocking at your door at 2 a.m. in the middle of your Call of Duty marathon. The S4251w provided the true surround sound experience that I was expecting. Depending on what you are watching, the rear speakers can be a little quiet, but that is easily remedied by adjusting the surround sound settings. Once that is done, everything will sound great, and LOUD.
Audio quality has mostly positive reviews on the net, and I will adhere to the majority on this one. While I am sure that it will not match high end sound equipment, I find that for the price, this system sounds great. Of course, the better your source material, the better it will sound on the bar. The old rule of crap in, crap out still applies here. Everyone but the most serious of audiophiles will most likely be satisfied. After pairing my
Nexus 5
, streaming and playing music from Google Music was quick, easy, and painless, and sounded great. Be aware that there is no HDMI input on this system. You will need an optical cable (included) to get the best sound from your equipment. In my case, all HDMI connections went to my TV, which in turn passed all sound through the optical cable to the soundbar. It keeps your set up very clean and clutter free.
There is an included USB port which for some reason only plays .
wav
files. I understand that this audio format offers the best digital sound quality, however, most people have .aac and .mp3 files. I'd wager that there are more people carrying .flac, or .ogg files than there are people with .wav files on their thumb drives. Perhaps Vizio doesn't want to pay any extra licensing fees due to the cost of the system? Maybe they figured that just about any device that you connect to this system will be able to play these types of files already. It's not a deal breaker, but just a curious omission.
Overall
For the price/performance, this is the system to beat. Whether for a college dorm, or a family living room, this is a great system with a clean setup and awesome amount of features for the price. The included mounts and audio cables just sweeten the deal even further.
If you like this page, or any of my articles, please feel free to click on an ad when visiting. It helps keep the blog going. If that sounds like too much work, then please share the blog with your friends! I love visitors!